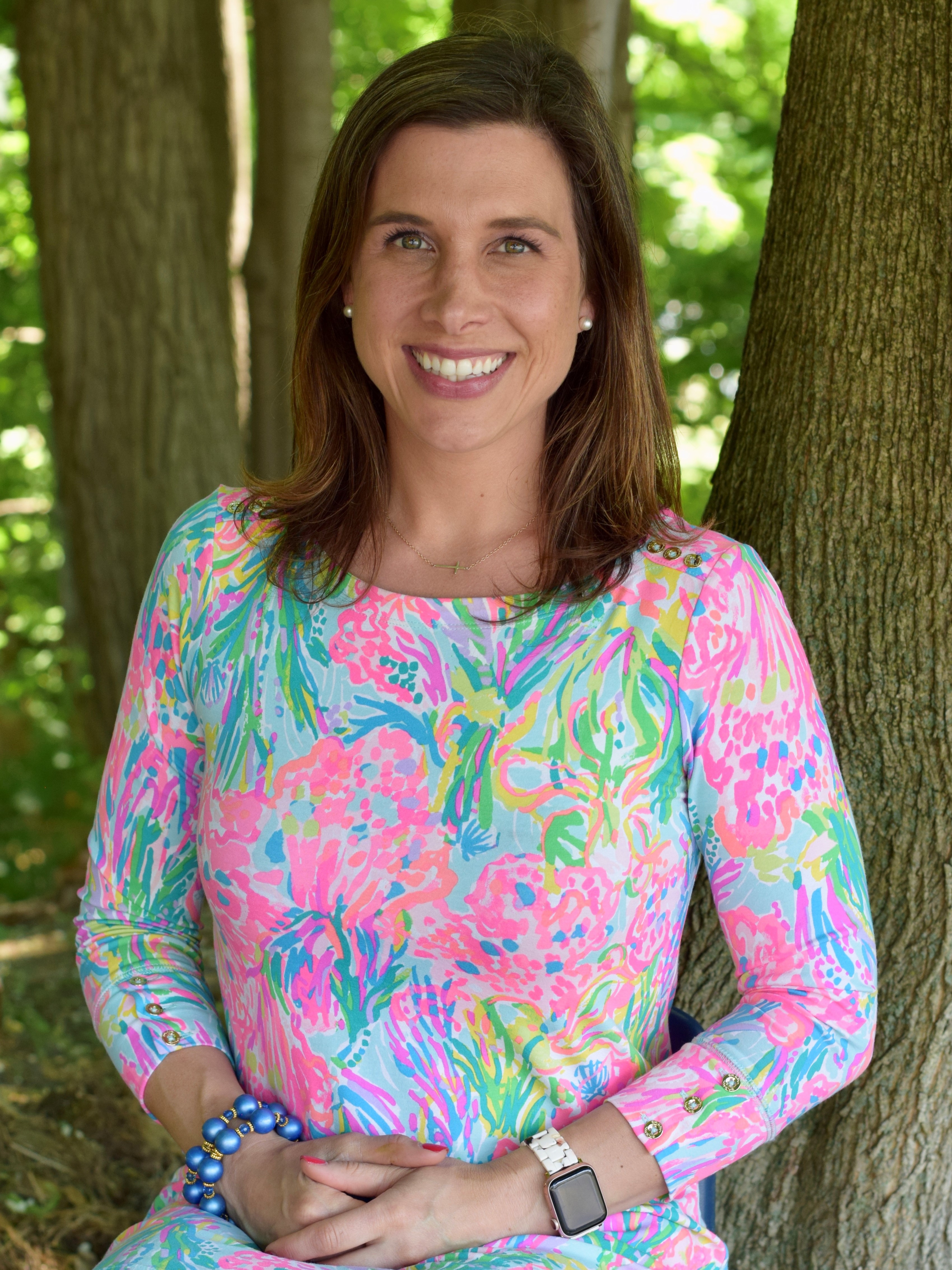 Victoria Legacki
Victoria began her educational journey at the University of Scranton where she graduated with a Bachelor of Science Degree in Elementary Education. She later went on to earn a Masters of Science Degree in Curriculum and Instruction. In addition she has taken many graduate level courses in special education and reading instruction and participated in extensive workshops on differentiation, classroom management, enrichment, reading and writing workshops and preschool development. Her many years of teaching experience include teaching kindergarten and first grade in Connecticut and first through third grade at Hilltop Elementary School in Mendham Borough. Victoria taught the Pre-K Fours class and Kindergarten Prep Enrichment class at HCNS before beginning her role as Director in 2021. Victoria lives in Mendham Township with her husband Michael, her three children Grace, Peter and Michael and her dog Coco. In addition to serving as Director, Victoria teaches the weekly chapel lessons and monthly "Pre-School Pal" lessons to the children of Hilltop Christian Nursery School. Teaching and working at the preschool level brings Victoria so much joy and she feels blessed to be part of the HCNS community.

Patricia Barnes

Patty Barnes has lived in Mendham Twsp for 31 years, raising two daughters with her husband Brad. She received a Bachelor of Arts from Trinity College, along with spending a year at the Universite de France Compte in Besancon, France. Since then she has completed numerous enrichment courses in all fields of child development. Patty has worked at HCNS teaching the four year olds for 15 years and the three year olds for 11 years. She also teaches and assists in the afternoon enrichment program. Patty enjoys keeping active with tennis in the summer and paddle tennis in the winter months, along with exercising her dogs daily. She has also enjoyed traveling to see her two daughters in NYC and the Boston area, and more recently in Charleston, SC and Hermosa Beach, CA. Patty feels blessed to be part of the Mendham community, and to have worked at HCNS with a supportive and committed staff, along with the many dedicated families.

Vanessa Cerchio

Vanessa began her career in business after receiving a Bachelor of Science degree from the Kelley School of Business at Indiana University. After working in NYC and Washington, DC, for 10 years, she went on to receive her teachers certificate and Dual Masters Degree in Elementary Education and Special Education from Montclair State University. Vanessa has been an active "stay-at-home" mom and lives in Mendham with her husband, three children and dog. She enjoys being involved with the local HSA as well as a number of her children's activities. After her three children graduated from HCNS she knew she wasn't ready to leave such an amazing school. Since then she has enjoyed working as an assistant in the 2's, 3's and 4's classes. She is excited to continue her journey with HCNS and is looking forward to using her educational training to teach Kindergarten Prep.

Betsy Drew

Betsy Drew loves our little happy place at Hilltop Christian Nursery School. She has a degree in Education from Miami University and a Masters in Curriculum and Instruction. She has enthusiastically been in education for 31 years, first as a middle school English teacher, then as a "mom" involved with HSA and Mendham Girl Scouts, and most recently with all the fun preschoolers at Hilltop. Originally from Chicago, she has three daughters that grew up in Mendham schools. She enjoys music and stories and dancing with her preschool pals.

Elizabeth Daley

Liz has enjoyed working with the children of HCNS for 21 years. She has taught the twos and threes. Liz also developed curriculum for and taught the afternoon multi-age enrichment classes. Liz helped establish the summer camp and has been a director/teacher for the program for over 10 summers. She formerly taught first and second grade at Gill St. Bernard's School. Liz moved to Mendham with her husband, Joe, in 1996. They have enjoyed being active in the community and raising their four children in Mendham. Liz earned a Bachelor of Science in Elementary and Kindergarten Education from the Pennsylvania State University and a Master's in Reading from Montclair State University. She enjoys continuing education opportunities as learning is a lifelong endeavor!

Eileen Lupo

After working in Business / Marketing and deciding to be a stay-at-home mother, Eileen followed her true passion of working with preschoolers. Soon after Eileen's daughters attended HCNS, she realized how special a school this is! Eileen has been working at HCNS for the past 15 years, started out assisting the 2's, 3's, and 4's, and for the past seven years has been teaching the 2's and Mommy and Me program as well as assisting with Enrichment Classes. Eileen has lived in Mendham with her husband and two daughters for the past 18 years. She holds a B.S from Montclair State University and certifications and ongoing education from numerous Teaching Programs. Eileen enjoys being active in her community and was a Girl Scout Leader for over 9 years.

Cindy Masucci

Cindy has been a teacher at HCNS for the past 20 years. She began as a twos teacher, but has also taught the threes, multiage enrichment classes and currently is teaching our fours. She lives in Chester with her husband, Duane, and has two grown children living in Manhattan, both of whom attended HCNS. Cindy began her career teaching Kindergarten at Far Hills Country Day School and then again in the Millburn School District. She holds a B.S. degree in Psychology from Syracuse University and a Master's Degree in Early Childhood Education from Kean University.

Heidi Nicholson

Prior to joining HCNS, Heidi enjoyed a 20-year career in corporate Marketing & Advertising. After corporate life, Heidi spent time at home raising her young daughter. In between some marketing consulting, Heidi became involved in the Hilltop Elementary School HSA, and was a Mendham Girl Scout Troop Leader. During this time, she realized the pure joy she felt from teaching and watching children learn and grow. This led Heidi to HCNS in 2021, where she has been assisting the twos classes, teaching Enrichment Class, and was Co-Director of HCNS Summer Camp. This year, Heidi will also be teaching a twos class and assisting with the Toddle Time program. Heidi has a degree in Speech Communications from East Stroudsburg University, a Certification in Spanish Language Studies, and is furthering her education in Early Childhood Development. Heidi lives in Mendham Borough with her husband and daughter and feels blessed to have found such a happy place to work!

Nicole Schoenbrodt

Nicole has been a teacher at HCNS since 2010. She has mostly been a teacher in the threes, but has also taught the twos, Mommy & Me, and has been an assistant in the threes and fours classes. She lives in Mendham with her husband and three children, who all attended HCNS. Before making the decision to stay home with her young children, Nicole taught Pre-K, first, and second grades. Her degrees include a Bachelor of Arts from Gettysburg College, as well as a Master of Arts in Elementary Education from St. Peter's College.

Maura Schupack

Maura, who was raised in and remains a resident of Mendham, has been at HCNS since 2000. Since that time, she has held a number of roles at Hilltop, including an assistant in the twos, threes and fours classes as well as lead teacher in the threes. Maura currently works in the office providing assistance to our Director and loves to visit all the classrooms and spread cheer. Maura received a Bachelors of Science in Business Administration from the College of St. Elizabeth (now St. Elizabeth University). Maura and her husband Jeff have 2 sons, one of whom graduated from Hilltop Christain Nursery School.

Amanda Valenta

Amanda lives in Mendham with her husband and two children, 10 and 8 who both attended HCNS. She formerly taught pre-kindergarten at Our Lady of Assumption School and Hoboken Catholic Academy. After having her children, she returned to teaching at HCNS where she has been teaching for three years. She loved assisting in the twos, threes and fours classes, and teaching Kindergarten Prep on Fridays. Amanda specializes in hands-on, center based learning with a focus on inquiry and exploration as a method for active learning engagement. She is very excited for a new opportunity to lead the Fours Enrichment Program. Amanda holds a B.A. in Elementary Education and Mathematics from Rowan University.

Jen Walsh

From a young age, Jen always knew she wanted to work with children. After graduating from The College of New Jersey with a Bachelor of Science Degree in Elementary Education and Mathematics, she went on to work in the Livingston Public School District as a second grade teacher. As her family grew, she made the decision to be a stay-at-home mother, where her role of "teacher" took on a new meaning. Jen and her husband have lived in Mendham Borough since 2014 with their three children – ages 7, 10 and 12. It wasn't long after they moved before Jen became a part of the special HCNS community, when she registered her second child in the 2's program, and she has been part of the HCNS family ever since. Jen has held many roles at HCNS over the years – parent, parent council member, substitute teacher and assistant teacher. She is also an active member in the Mendham Borough community, volunteering within the HSA of her children's schools and serving as a Girl Scout Leader. Jen is excited to continue teaching "Toddler Time" on Fridays for our parent-child program. She hopes that with her energy, creativity and enthusiasm, she will create a positive, nurturing first school experience for the newest members of our HCNS family.